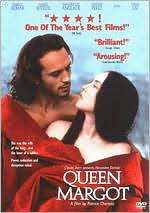 I attempted to watch The Musketeer last night. While I was eating dinner (a chicken bowl–which was quite tasty btw–from Taco Hell), no problem staying awake then.
Afterwards, it was downhill from there. The movie is full of action, but the plot is extremely dull. I think I made it through about an hour of it, started dozing off, fell asleep
, then JT turned it off. How many Musketeer movies can they make? If you like European History, may I suggest the following movies: 1) La Reine Margot, a French movie with English subtitles about the reign of Queen Margot during the St. Bartholomew Day's Massacre in 1572. Full of violence and sex! and 2) Elizabeth, a dramatic film about the early reign of Queen Elizabeth I in England.
I was first introduced to La Reine Margot by my AP European History teacher, Mr. Harig, in my senior year of high school. As we studied the struggles between the Catholics and the Protestants, we watched clips of the movie to add a visual effect of the horrific events. I was hooked on the movie ever since. The movie is not easy to buy; my dad eventually helped me hunt it down at Blockbuster. La Reine Margot and Elizabeth are two great movies to add to your collection if you appreciate a fine adaptation of history.